Protecting Intellectual Property on E-commerce
December 17, 2021 By
Dinesh Parmar
As the name defines in itself, Intellectual Property (IP) stands for anything that your mind creates in its most original form. However, with the advent of technology and digital commercialization, IP has been consistently intrigued and copied. It is at this frontier that the current digital world, especially the world of e-commerce, which generates monetary benefits; demands e-commerce intellectual property protection laws. In this article, the provisions for protecting IP on E-commerce have been comprehensively explained.
Intellectual Property (IP)
Legally, Intellectual Property (IP) gets recognized under the definition of the World Intellectual Property Organization (WIPO). According to WIPO, IP is meant to be identified under two main categories. Firstly, it refers to properties like innovative ideas and artistic/literary pieces, which come under copyright and related rights. Secondly, properties under the regulations of industrial property, like, Patents for inventions, Trademarks, Industrial design, Geographical Indication, and Trade Secret.
Since 1995, India has been a member of the World Trade Organisation (WTO) and thus considers some WTO IPR in its national laws. These specific laws are also part of IPR on e-commerce, in India. Moreover, the IPR regulations in India on e-commerce aim to regulate and protect individual privacy and international flow of data, and so get its shape from the General Data Protection Rules (GDPR), 2018 of the European Union. The thumb rule of IPR in India on e-commerce follows Article 17 of GDPR- Online Content Sharing Platforms (OCSPs) as
"Give artists a stronger position in invoking their rights for fair compensation when their work is used and distributed online by others".
The Ministry for Commerce and Industry, Government of India, considers IPR regulations of WTO, and other globally accepted e-commerce regulations which tally its legal IPR. It is therefore very important to know the IPR of India while considering e-commerce related regulations. Till now, even in the e-commerce platforms, the general Indian IPR remained effective for safeguarding your intellectual capital, and further restricting yourself from violating others' intellectual property. However, reformations are highly demanding in e-commerce platforms.
Intellectual Property on E-commerce
Though there are just two kinds of IP, yet innumerable types of IP under these two kinds get traded in the domain of e-commerce. The most common is of course related to the entertainment business like films, music, videos, and photographs. However, other than entertainment business; there are businesses which provide products or services with new technology, design, or special features that fall under different IPR like Patent, Design, and trademark has considerable importance to build a brand image by growing or selling the businesses online on the e-commerce platform.
Many online selling e-commerce platforms have already set up mandatory criteria for the sellers to upload brand ownership proof or IPR ownership proof before allowing them to grow or sell their businesses online. A registered IPR protection makes it easier for the IP owner to prove ownership and take the legal action and proceedings against any infringement activities and protect their assets effectively. However, there are also the domains of businesses dealing with software, web designs, and web content, which are counted under IP in e-commerce.
Significance of Intellectual Property Rights (IPR) on E-commerce
The significance of Intellectual Property Rights (IPR) stands firm in the domain of e-commerce as it is through IPR that the IP of e-commerce gets protected from different kinds of infringements. Since IP acts as capital to an e-commerce business it must have different identifications from other contemporary businesses. It is here that the IPR offers property rights to this unique kind of capital by implementing patents, geographical indication, trademarks, copyrights, etc. following the regulations of the IPR. The owner of this intellectual form of capital attains an exclusive hold over the e-commerce intellectual property and can legally obtain all kinds of benefits from this capital. Thus, Intellectual Property Rights can be defined as-
'Safe establishment of a creation in the public domain of e-commerce, and availing legal rights to the commercial usage of this creation for a fixed duration.'
It is important to note here that in the case of e-commerce the protective shield of the IPR is subject to gets restricted for a specific duration, which is again subject to renewal and extension.
Why the IPR on E-commerce
E-commerce is very much vulnerable to all sorts of exploitations. With technological advancements, the internet is also developing unfair modes of competitiveness in the market. Unlike traditional marketplaces, which were restricted to local trades; e-commerce offers the business the power to get expanded on the global platform. It is here that the possibility of IP getting breached, stolen, and further earned revenues without the knowledge of the owner gets highly sensitive. IPR on e-commerce offers necessary technical security to restrict the stealing of IP in two determined sectors: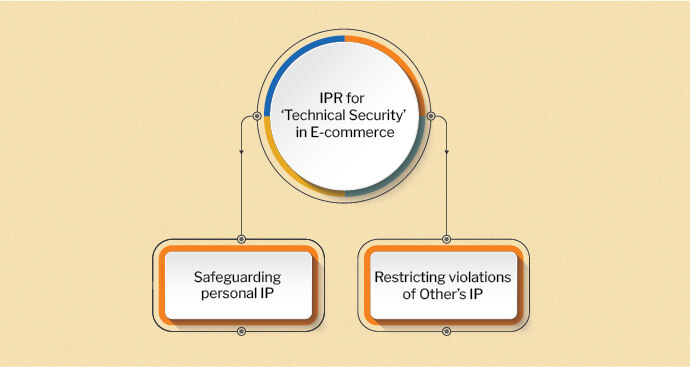 Thus, IPR determines the ways through which online activities get regulated and maintained within legal norms. Without strict IPR application in e-commerce, everything that is online will be subject to chaotic situations in businesses.
Why is eCommerce Important for Business?
Records from Statista show that with active internet users of 560 million in 2021, India has ranked itself as the second largest e-commerce market, after China. This huge participation of active users will grow up to 1532.3 million in the next two decades, therefore it is obvious that eCommerce is going to be a must-have platform for the future growth of businesses.
IPR in India Laws & Policies
IPR in India is implemented under the protection regulations of patents, copyrights, and trademarks for selling and buying activities in both physical and e-commerce businesses. These are also applicable to the domain of e-commerce under the laws of: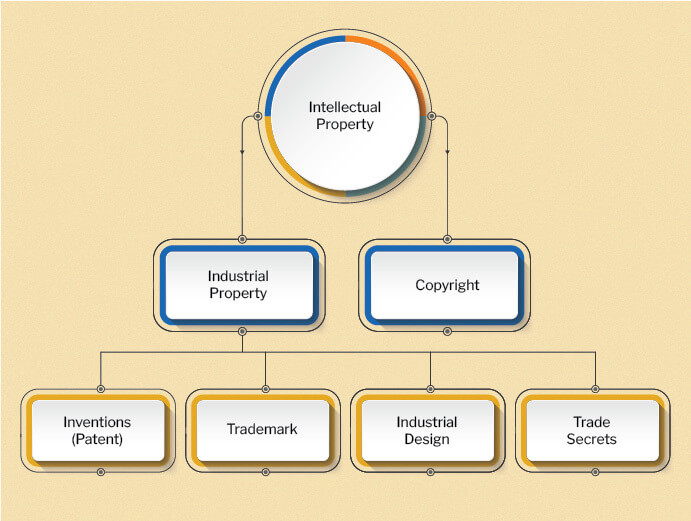 The laws determined by the IPR in the domain of maintaining businesses remain inclusive even for the e-commerce sector. The Indian IP law firm must consider determining specifications in this connection, and as noted under the regulations and laws of Patents Act, Copyright Act, Trademark Act, Industrial Design Act, and Trade Secret under Contract Laws.
Evidently, the Indian regulations on IPR are currently supporting the domain of e-commerce. However, to safeguard and avoid violations of IPR by your e-commerce business, it is always appropriate to consult the professionally recognized IPR firms in Ahmedabad, Gujarat, India. Since India is known for maintaining business regulations in the international marketplace; the right consultation can bring the right growth to your e-commerce business.